PVDF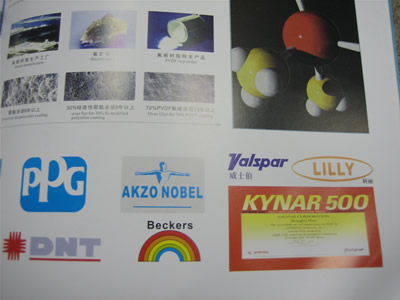 The PVDF painting line of ours, is the top-notch-all-closed CNC continuous auto line, which adopted the oversea state-of-the-art equipment with an annual capacity of 800,000m2, strictly complaint with ASTM standard. Suspension chain conveyor is equipped; in the water-curtain spraying room three sets of computerized Ransburg electrostatic spray guns are in place; the baking oven is heated by proportional US burner. The Sheen oven temperature tracker and Minolta spectrometer are configured for on-line inspection. Therefore it is a highly automated line. The coating complies with AAMA2605 Standard. Our PVDF aluminum panel can be stored for 15 years under normal outdoor condition.
Spray painting process flow:

(1) as per AAMA2605-98 stipulated by American Architecture Manufacturer Association

(2) pretreatment of Al and Al alloy: Degrease ¡V alkaline etch ¡V roughen (pickling) ¡V chromizing - baking

(3) PVDF spray painting: Workpiece loading ¡V primer painting ¡V top coat painting ¡V finish painting ¡V curing ¡V workpiece unloading ¡V inspection (packing)
PVDF coating is most suitable for outdoor metals such as aluminum building curtain wall, scaffolding rack, aluminum window frame, suspending roof and signboard. Its primary composition is above 70% Kynar 500 or Kynar 5000DE resin which integrates stability and durability, PVDF coated products can withstand long term erosion of wind, rain, UV light, industry waste gas, acid rain and chemicals, and keep the gloss and cleanliness, be easy to clean and maintain, no discoloration, peel off, break and chalking, and tested in accordance with AAMA2605, the service life is over 15 years.