Aluminum Composite Panel
Aluminum Plastic Board ¡V Strict Selection of Materials
- Coating aluminum board: By introduction of coating board of Korean origin and fluorocarbon resin of American PPG dope, exterior fluorocarbon board is characterized by acid resistance, alkali resistance and UV radiation prevention with fluorocarbon content over 70%.

- Bottom aluminum board: introduced rust-proof aluminum board up to GB/3880-1997 standards produced by Southwest Processing Plant. All boards enjoy an even and firm heat splice after cleaning and chromic treatment.

- Core board: introduced 9806# polythene special for aluminum plastic board produced by Maomin Petrochemical Works to ensure firm splice of the core board and the aluminum board, and further keep an invariably stretchy and smooth surface;

- Sticking film: introduced high polymer sticking film of Korean origin; ten years quality guarantee; ensures firm splice of the board and the plastic.

- Surface protection: introduced high quality protection film in French Louis formula; ensures no degumming or residues within one year.

- Quality Commitment: by right of strict selection of materials and stable production technology, we promise to offer high quality products as follows: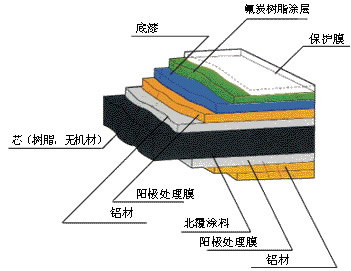 (1) 180¢XStripping intensity ¡Ù 10.7N/mm.

(2) Fluorocarbon content: 70%CH. Thickness of dry film ¡Ù State Standard

(3) No color difference for the same color or in the same batch.

(4) ON the premise of no change of width, optional length of boards is available.

(5) Ten years quality guaranty accepted by international clients of the same trade.